Exceptional Sheet Metal Assembly Services
At PFA, our fabricators possess extensive experience in expertly assembling a wide range of components and products. With a meticulous attention to detail, we work diligently according to technical drawings, Standard Operating Procedures (SOPs), and rigorous quality standards.
Our portfolio of assembled products showcases our versatility and expertise, including:
Recovering vehicle beds
Insulated panels
Balcony Cassettes
Ventilation systems
Racking & Storage solutions
Agriculture and Forestry machinery
Electrical units
PFA's flexible approach enables us to rapidly scale up operations when needed, ensuring swift and efficient delivery. By investing in cutting-edge machinery and developing our own Enterprise Resource Planning (ERP) and internal operation systems, we guarantee that customer requirements are met and products are finished to the highest possible quality.
Accurate and Cost-Effective Solutions for Sheet Metal Projects
CNC Punching Services provide a rapid and economical approach to producing holes in sheet metal, ideal for medium to large-scale manufacturing batches.

Utilising a steel punch to penetrate the material and enter a die, this technique yields precise cut-outs.

Furthermore, the nibbling process can be employed, where overlapping punched holes create cut-outs and profiles in an array of shapes.

Experience the advantages of PFA's British craftsmanship with our expert CNC punching solutions.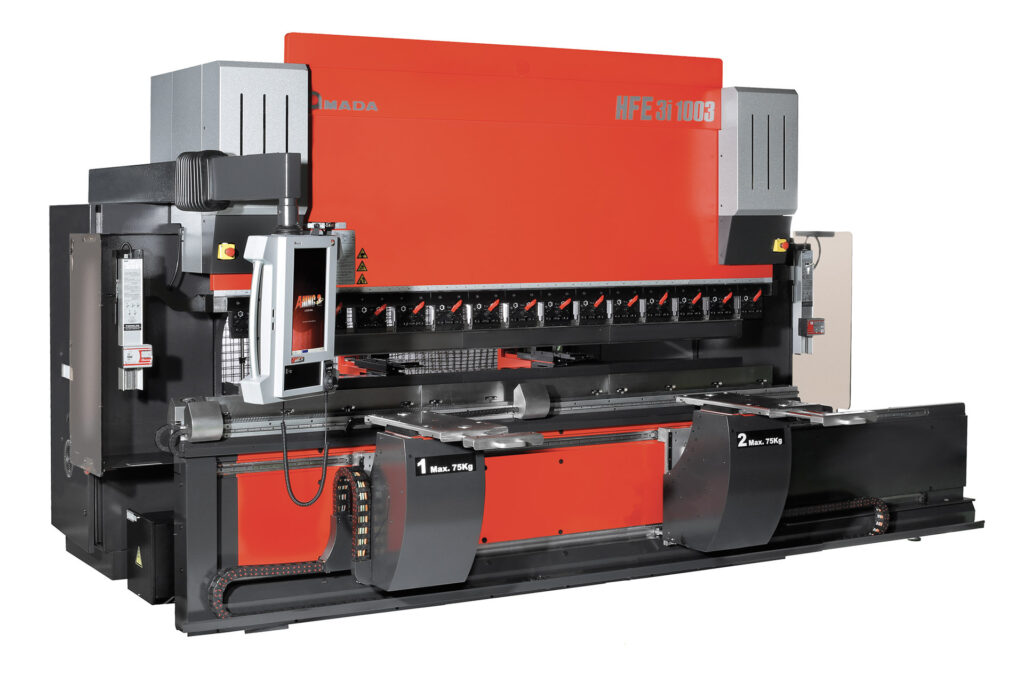 | | |
| --- | --- |
| Model | VENTIS-4020-AJ 4kW + LST |
| Maximum material thickness* | 25 mm Mild steel |
| Maximum material thickness* | 20 mm Stainless steel |
| Maximum material thickness* | 15 mm Aluminum |
| Maximum material thickness* | 8 mm Copper |
| Maximum material thickness* | 10 mm Brass |
| Maximum material thickness* | 6 mm Titanium |
Precision Metal Folding with State-of-the-Art CNC Press Brakes
What is metal folding? Metal folding is the process that gives the metal product its shape.
A machine is used to bend (or fold) the metal in order for it to reach its intended form.
The benefits of using this robust and efficient machine are that it can fold small intricacies and create a variety of shapes for many day-to-day products.
The angle of the bend is usually determined by the shape of the top or bottom tool (usually a "V" shape) and also the pressure applied.
PFA's persistent investment in cutting-edge CNC press brakes ensures we can craft simple and intricate parts alike with consistent bending accuracy (+/- 0,01mm) and efficiency.
The latest investment into our 4metre 220Tonne AMADA HFE 3I
At PFA, our welding services provide quality and precision within a variety of metal types. All welding conducted by our experienced professionals is exact to your specifications.

Welding plays a crucial role in our comprehensive sheet metal fabrication service. PFA offers MIG, TIG, Spot, and Stud welding in various materials such as aluminium, mild steel, stainless steel, Copper and brass .

Our Skilled welders are Accredited to EN1090 Execution class 2, giving our customers the peace of mind in the quality of product we offer.
At PFA, we offer expert 2D and 3D services using the latest state-of-the-art Auto CAD Software and Amada VPulse 3i software.

Our experienced professionals guarantee the highest quality results when it comes to 2D and 3D design and fabrication. We specialize in creating the ideal design and layout for your project, no matter the complexity or size.

Whether you need a 3D rendering of a simple part or a more complex design with a wide range of components, our experienced designers and engineers are here to help.

We give our clients the opportunity to experience the power of AutoCAD LT 2022, allowing them to see how their designs would look in the final product.

AutoCAD's powerful features and tools make it quick and easy to create accurate and detailed models of any structure or object.
What You Need to Know About EN1090 Execution Classes
EN1090 is a set of European standards that govern the fabrication and assembly of steel and aluminium structures. One of the key components of EN1090 is the concept of Execution Classes, which are organised sets of conditions specified for the implementation of the works as a whole, of an individual component, or of a detail of a component. These classes range from Execution Class 1, which gives the lowest set of requirements, to Execution Class 4, which offers a higher, more stringent set of requirements. Understanding EN1090 and its Execution Classes is crucial for ensuring that steel and aluminium structures are fabricated and assembled to the proper standards.
1
Get in Touch
Get in touch with us via phone or email.
2
Free Quote
We will provide you with a free written quote.
3
Begin Work
We will get started on fulfilling your order.
We manufacture bespoke metal pressings for all aspects of cladding work. Other specialist services include a full welding service, folding and pressing, as well as CNC cutting and punching. All types of finishing can be applied, such as powder coating, anodising or mill. Just let us know what you require.