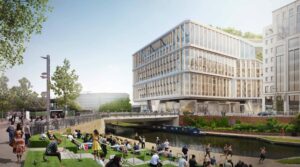 Development of 990,000 square feet over eleven floors
We fabricated fifty tonnes of balustrade brackets for Google's first wholly-owned building outside of the U.S
All 4,566 brackets and washers were custom-made in epoxy weatherproofed resin and intumescent coating, giving ninety minutes of fire protection.
The project was completed in March 2023 within a four months timeframe at a total cost of £300,000.
We manufacture bespoke metal pressings for all aspects of cladding work. Other specialist services include a full welding service, folding and pressing, as well as CNC cutting and punching. All types of finishing can be applied, such as powder coating, anodising or mill. Just let us know what you require.